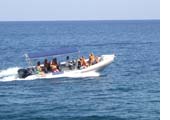 A very enjoyable and safe boat trip runs approximately every 2 hours during high season and once a day during low season. Dream Adventure Trips run a large speedboat called "Ektor"from Almyrida around Souda Bay, and include a visit to the local sea caves.
Due to the geological structure of Greece a vast number of underground and underwater caves have been forming for centuries. An important factor in their creation was the abundance of calcarious rocks that the country has to offer. These rocks allowed the water to go through their thin cracks, forming huge openings. The drops from carbonate that have been flowing into the caves for hundreds of centuries created stalagmites rising from the ground and stalactites hanging from the top of caves.
Along the rugged coastline north-east of Almyrida, an exceptional number of caves have been formed. These caves formed by the waves and the waters coming from the mountains are mainly visible only by boat. Many of these caves have historically been used by soldiers and pirates, or by cheese makers who used them as storage for their cheese because almost all caves have a constant temperature of 18 degrees celcius.
The 2 hour trip aboard The Ektor speedboat can include stops at sea caves, a turquoise cove that is an unspoilt paradise called Ombrosgialos, and Marathi Beach on the far side of Souda Bay. The captain, Giorgos, is very knowledgeable and is a qualified scuba instructor. Free snorkeling equipment is provided on this trip and you are given the opportunity to go snorkeling in the sea caves and/or at Ombrosgialos cove. Dream Adventure Trips are a fully insured and licensed company who put your safety first. Lifejackets are supplied and the boat has an awning over the top for those of you who do not want to get too much sun.
This is a wonderful trip for all of the family, and the romantics amongst you may particularly enjoy the late afternoon trip that takes in the magnificent sunset.
Tickets are available from Villas Crete Holiday.
Private boat trips can be arranged upon request.